Packing Services in Irvine
The Packaging Store is your solution to pack your delicate, ornate, large and heavy objects.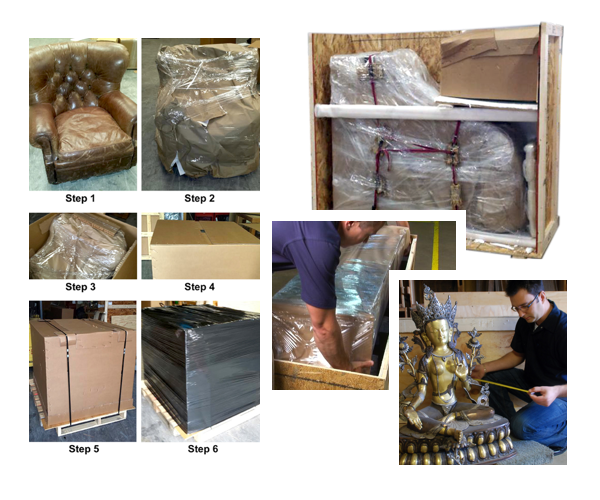 Full Service Packing Company in Irvine
We take care of everything. From packing to shipping and even crating, the industry-leading professionals at the Packaging Store make getting things where they need to be headache-free. We don't just shove letters in envelopes and books in boxes, we take care to protect your valuable or fragile items like they were our own. With 30 years of experience, we've never met a package we couldn't secure.
No matter what you have, we have the experience to pack it perfectly.
Furniture and Antiques: Intricately carved chairs, expansive mirrors, and one-of-a-kind treasures in all shapes and sizes are no challenge for our packaging team. If it is difficult to pack, come to the Packaging Store and let us take care of everything. We will ensure safe transportation of your valuable and treasured furniture and antiques with custom packing and shipping solutions.
We really do not just do packing supplies, we do the packing as well! Our Irvine Packaging Store benefits from 30 years of working experience packing and shipping nearly anything at all. We think that for those who have something that has to be packed and shipped, you shouldn't really need to go it alone. From sculptural artwork to machinery to a compact gift, we are happy to help you pack anything.
Foam-in-place packing and internationally shipping are only a few matters we've gotten down to a science.
Shipping furniture & antiques is one of our specialties. At the Packaging Store in Irvine, we understand just how priceless some things are. We also offer you detailed shipping insurance to protect your investments throughout the shipping process.
Our packing providers include securing advanced electronics and computers to aid your move from your home or office without worry. Widescreen TVs? No problem. Computer towers and peripherals? We've got you covered. Ask us about our transit services for convenient on-site packing.
We generally have an option to fulfill your shipping and packing desires. The Irvine Packaging Store will build customized crates that meet global prerequisites.
If you may have any question at all about whether or not your items will make it securely to their desired destination, give the Irvine Packaging Store a call.
Why do people choose The Packaging Store? We treat every item as if it were our own. Want an instant quote?
Call us at (949) 752-8468.
Sincerely,
Ravi Kanwal
The Packaging Store of Irvine