Shipping Services in Irvine
The Packaging Store in Irvine offers packing and shipping solutions to meet every need. Over the last 30 years, we've perfected everything from packing and palletizing to shipping and tracking.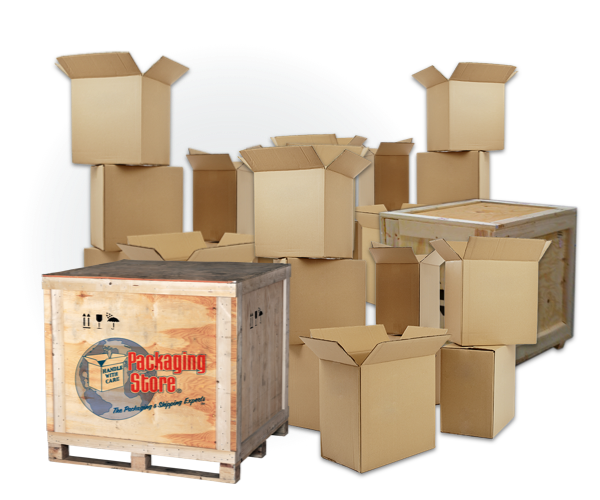 Shipping Companies in Irvine
We make shipping look easy. Instead of researching and comparing every freight and shipping service available, come to the Packaging Store and take the guesswork out of choosing a shipping company. We're the industry leader when it comes to packing and shipping hard-to-handle or extra large items or precious furniture and antiques, and our network of transportation systems is unbeatable.
We're the experts in providing crating and shipping solutions locally and worldwide. We work with you to choose custom shipping and tracking for delivering anything you might need handled—whether it's business shipping or family small shipments, moving supplies—or even Motorcycle Shipping!
When it comes to packing and shipping in Orange County, the Packaging Store in Irvine is the favorite of students and corporations alike. Our expert workers take time with you to go over your shipping desires and identify the ideal shipping option to suit your needs for your business. With 30 years of experience behind the Packaging Store name, we understand how to find the right service to meet pretty much any need.
Shipping in Irvine
Irvine was planned well, and growth is better than ever, but sometimes that growth can make finding a shipping partner a challenge. Luckily, we do almost everything from packaging to labeling to shipping internationally. We even make packing and custom-designed crates which will securely transport pretty much anything.
In Irvine, we help people ship and package everyday. The Irvine Packaging Store staff is trained to find the right shipping solution for every client. We realize that price range is usually an important aspect in choosing a shipping services. That's why we provide our no cost shipping charge calculator to aid you in shopping for the right shipping option.
When you come to the Packaging Store in Irvine, you won't need to go to an additional shop to finish your shipment. You can pack and ship with us whilst picking from all key carriers, and lots of smaller sized, boutique package delivery services which includes FedEx, DHL, Yellow Freight, UPS and more. We'll even pack your boxes for you personally, regardless of what shipping partner you use.
At the Packaging Store, we make shipping a pain-free, streamlined experience.
Why do people choose The Packaging Store? We treat every item as if it were our own. Want an instant quote?
Call us at (949) 752-8468.
Sincerely,
Ravi Kanwal
The Packaging Store of Irvine