The Packaging Store in Oakland has the experience to save you time and money when shipping one piece of furniture or many.

What would be the easiest thing for you right now? To find the perfect furniture shipping company, right? Read on to see why we believe we are the furniture shipping company you are looking for.

At Handle with Care Packaging Store, we make it easy for you to ensure your furniture is safe by handling the pickup and shipping of furniture with expert care. Whether you have just one piece or many, our furniture shipping services make protecting your important items a breeze.

Sometimes people ask us, "Why should I choose you over your competitor?" Great question. We answer, "We'll handle your furniture as if it were our own." From the pickup process to the final delivery, like our name says, each step is "Handled With Care." As a professional shipping organization, we know the in's and out's of shipping everything. Whether your furniture is priceless art or an antique, a family heirloom or a complete room full of furniture, we'll make sure your furniture shipping experience is stress- and worry-free. What's more, with our over 400 affiliate locations nationwide, we can coordinate to ship your furniture anywhere in the world, nearby or far away - all with complete insurance coverage if necessary. And our skill at packing is based on experience from thousands of shipments, ensuring you are working with the very best professional in the preparation of your valuables for shipping.

When you're considering furniture transport companies, there are none with a wider range of experience we have shipping furniture. And when it comes to customer service... we have the discount companies beat! Think about it: do you really want a "starving student" picking up your valuables in a rented truck? Probably not! And when it comes to furniture shipping rates, we offer competitive pricing to fit your budget and needs. In addition to being a premier, national furniture shipping company, we offer an array of other convenient services to make your life easier. We have years of experience shipping priceless antiques and valuable fine art. Some of our locations can even provide storage services for short or long-term storage needs. The fact is, when it comes to taking care of the customer's needs, you will find the standards and practices at the Handle With Care Packaging Store to be at the highest level.

So give us a call at (510) 420-1171 and speak to any of our furniture shipping professionals to see we mean business and take furniture shipping to a new level of convenience, service and excellence in care.
The Packaging Store is Proud to Work With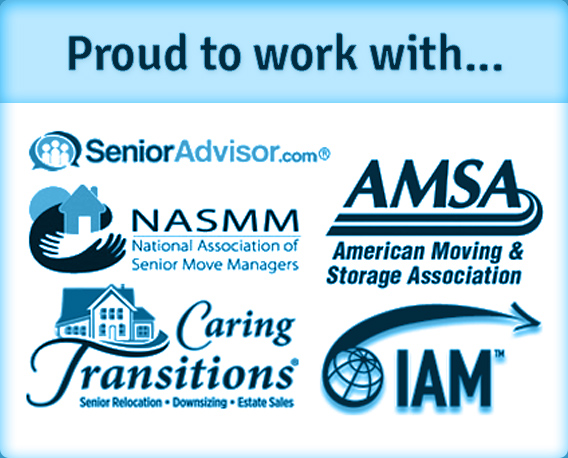 SeniorAdvisor.com
National Association of Senior Move Managers
American Moving & Storage Association
Caring Transitions and IAM
Need a quote? Call us at (510) 420-1171, and we'd be happy to listen and provide a custom solution based on your needs. Thank you for giving The Packaging Store the opportunity to earn your trust, and your business.
Sincerely,
Darren Armor
Packaging Store of Oakland
4364 Piedmont Ave
Oakland, CA 94611-4768
The Packaging Store
4364 Piedmont Ave

Oakland, CA 94611-4768

M-F 9:00a.m. - 6:00p.m.
Sat 10:00a.m. - 4:00p.m.

Serving Oakland, Alameda, Berkeley, Piedmont, Emeryville