Your Solution For Senior Downsizing Shipping Service in Oakland
Based on more than 30 years of experience, The Handle With Care Packaging Store professionals have assisted senior citizens and their families with the difficult task of downsizing to a smaller living space. We understand the care required when handling sentimental and irreplaceable possessions important to the family.
At The Packaging Store, we make it easier for you by shipping your antiques, furniture, artwork, paintings, and more. Whether you need us to ship a few items to one location or several items to multiple locations around the world - our shipping services can make your downsizing a breeze.
The Packaging Store is Proud to Work With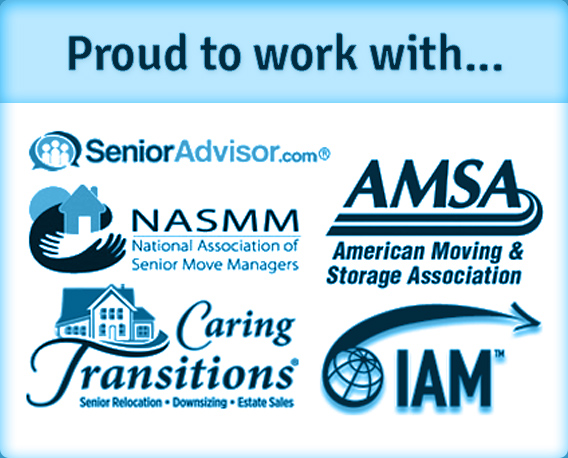 SeniorAdvisor.com
National Association of Senior Move Managers
American Moving & Storage Association
Caring Transitions and IAM
Senior Shipping Services in Oakland
Full service pickup in the U.S. and Canada.
Same day, next day or guaranteed pickup day available.
Standard or expedited delivery options to meet your budget.
Declared value coverage up to any value based on your individual shipment needs.
Destination services include standard or premium level white glove home delivery based on your budget.
The Packaging Store is Proud Partners with:



Need a quote? Call us at (510) 420-1171, and we'd be happy to listen and provide a custom solution based on your needs. Thank you for giving The Packaging Store the opportunity to earn your trust, and your business.
Sincerely,
Darren Armor
Packaging Store of Oakland
4364 Piedmont Ave
Oakland, CA 94611-4768
The Packaging Store
4364 Piedmont Ave

Oakland, CA 94611-4768

M-F 9:00a.m. - 6:00p.m.
Sat 10:00a.m. - 4:00p.m.

Serving Oakland, Alameda, Berkeley, Piedmont, Emeryville