Moving Services in Harleysville
The Packaging Store in Harleysville offers Moving Services.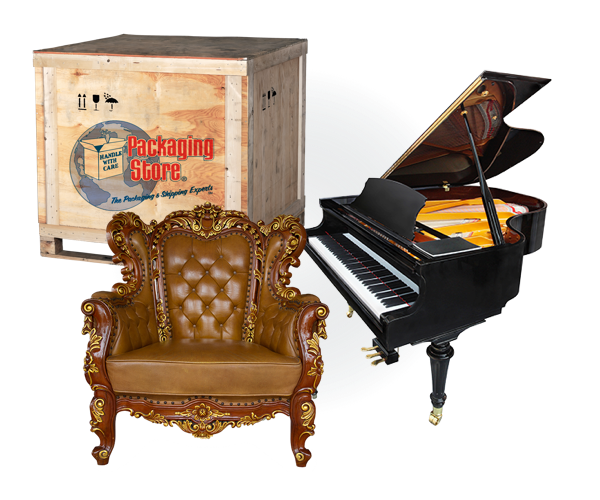 Moving Services
Moving is stressful, and since 1989, The Packaging Store of Roanoke has been here to help. Equipped to handle moves of any size, whether you have a one-room apartment or a large household, The Packaging Store can move you. We understand that your time is important, so relax and rely on our experts to move you. With free in home estimates, packing, moving and shipping products and services, we are Roanoke's go to source for all your moving and shipping needs.
No Mover Minimums
Uprooting your family is stressful enough without needing to pay mover minimums. Because The Packaging Store is both a moving and full-service shipping company, we do not have minimum weight or pricing requirements. You do not have to suffer paying to move a whole house, when you might just need to move a single room.
Packing, White Glove Delivery & Un-Packing
We understand that every move is unique, and we have a plan to make your move successful. First floor or fifth floor, our packaging service professionals remove the stress of packing. Our experienced staff will ensure your valuables are carefully packed, transported, and delivered to their destination safe. With our unpacking and white glove delivery services, our experienced crew can make sure your valuables are placed exactly where you want them on delivery. We can pack as much or as little as you need.
International Moves
Moving internationally? Our experts will create the perfect packaging solutions for every one of your valuables. Working with a certified Ocean Transportation Intermediary, properly licensed from the Federal Maritime Commission, we help guide you through that intimidating mountain of paper work.
Storage Options
Need more time, or do you just want to avoid being overwhelmed by everything arriving, at the same time? The Packaging Store offers short and long term storage options, tailored to fit your schedule and priorities.
Insured for Shipping and Moving
The Packaging Store of Roanoke is insured for local moves, and offers the proper value coverage that you need for your long distance moves.
MC # 517712
USDOT # 862648
H # 742
Why do people choose The Packaging Store? We treat every item as if it were our own. Want an instant quote?
Call us at (215) 361-6940.
Sincerely,
Alex Long
The Packaging Store of Harleysville