Packing Services in Berkeley
The Packaging Store is your solution to pack your delicate, ornate, large and heavy objects.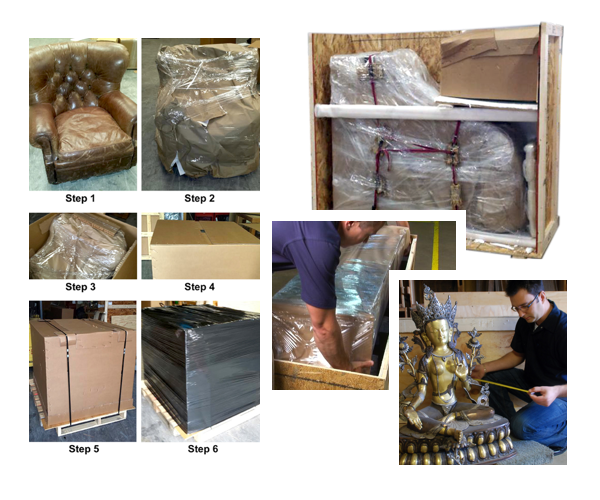 Full Service Packing Company in Berkeley
We take care of everything. From packing to shipping and even crating, the industry-leading professionals at the Packaging Store make getting things where they need to be headache-free. We don't just shove letters in envelopes and books in boxes, we take care to protect your valuable or fragile items like they were our own. With 30 years of experience, we've never met a package we couldn't secure.
No matter what you have, we have the experience to pack it perfectly.
Furniture and Antiques: Intricately carved chairs, expansive mirrors, and one-of-a-kind treasures in all shapes and sizes are no challenge for our packaging team. If it is difficult to pack, come to the Packaging Store and let us take care of everything. We will ensure safe transportation of your valuable and treasured furniture and antiques with custom packing and shipping solutions.
The Berkeley Packaging Store is a full-service packing and shipping shop, but there is a reason packaging is in our name. We go beyond merely mailing out boxes. Our pro staff backed by more than three decades of the Packaging Store's experience can help you securely pack your shipment for safe and sound delivery down the street or across the ocean. International shipping and local delivery both call for certain packing knowledge.
We take some time and care in packing shipments for reliable delivery. Although you may have an oddly shaped item, we are able to secure it for you with packing expertise and advanced supplies like foam-in-place technology.
Furniture & antiques call for a sensitive touch and specific experience and skills to package for protected delivery. Our employees take each and every item's shape and worth under consideration. We also offer insurance and consultation on packing and shipping valuable antiques and art.
Shipping electronics and computers is an additional area of focus to the Packaging Store. We realize what is required to safeguard personal computers, servers, and widescreen TV's from the strain of shipping across the country or globally. Are you moving offices but don't have time to buy supplies and pack the technology yourself? The Packaging Store's staff will take a trip to your office through our transit services.
Even if you are moving homes, we have the supplies you need to pack and move. All of our moving supplies can either be purchased in-store or delivered to your door in Berkeley. Just give us a call and we will get you the packing supplies you need when you need them. No reason to make a trip when the chaos of moving is in full swing. We sell and deliver bubble packaging, containers, straps, moving blankets, and more. We'll even deliver a little advice when you need it, too.
Creating custom crates for packing international shipments is another service we supply to customers throughout California and beyond. Our company is confident in meeting international shipping specifications like ISPM-15 certified custom crates.
At the Packaging Store in Berkeley, we can easily show you how to pack and ship almost anything with friendly, experienced services.
Why do people choose The Packaging Store? We treat every item as if it were our own. Want an instant quote?
Call us at (510) 540-6311.
Sincerely,
Darren Armor
The Packaging Store of Berkeley