Chairigami in New Haven, CT makes functional and affordable furniture from cardboard!
Apr 02, 2015
Using custom corrugated cardboard to build shipping containers, we found this very interesting alternative use for corrugated as well.  You've got to look at this interesting furniture from a company called Chairigami, located in New Haven, CT.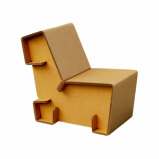 Founder Zach Rotholz explains on his site, Chairigami.com, "I have a long love affair with cardboard. I began by playing in large refrigerator boxes and teaching children in central park to engineer with cardboard.  Later, I was a cardboard apprentice at Adaptive Design and designed equipment for disabled children. This evolved into a senior project in mechanical engineering and then into a pop-up storefront in New Haven, Connecticut. Now I'm ready to save the world, one cardboard chair at a time."
Located at 55 Whitney Ave in New Haven, Chairgami makes chairs, tables, shelving and more from triple-wall corrugated cardboard, free of resins and glues for assembly.
They're open Mon-Fri from 10:30am to 6:00pm and on Saturday from 11:30am to 5:00pm.