Experience the Uniquely Beautiful Wildlife Art at Maynard Reece Gallery
Apr 02, 2015
The Maynard Reece Gallery is the premier source of wildlife art by internationally known wildlife artist Maynard Reece. The family owned and operated gallery offers limited edition prints, Duck Stamp prints and conservation stamp prints from artist Maynard Reece including many of the hard to find Maynard Reece and special editions, and custom framing services.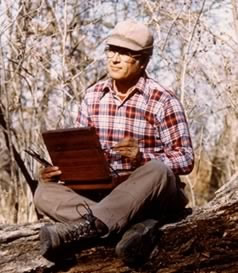 (Image: Maynard Reece Gallery)
Maynard Reece has a reputation as one of America's foremost wildlife painters with a long history of accolades: Currently the only five-time winner of the Federal Duck Stamp competition with works appearing in Life, Sports Illustrated, Saturday Evening Post, Sports Afield, Outdoor Life, Ducks Unlimited and National Wildlife.
"He has illustrated a number of books including The Waterfowl Art of Maynard Reece and The Upland Bird Art of Maynard Reece. His paintings have been exhibited in museums throughout the United States and Canada. Maynard Reece was commissioned in 1972 by the State Conservation Commission to paint the first Iowa Duck Stamp, and won the Iowa competition in 1977 and 1993. Maynard has painted over 35 designs of wildlife for state, federal and conservation programs."
The Maynard Reece Gallery has been a long standing part of the neighborhood located on Ingersoll Avenue just west of the downtown area in Des Moines, Iowa. Stop in and admire the largest selection of Maynard Reece art displayed in the 2200 square feet of showroom. If you find a piece of art during your visit, they offer a custom, full service, museum quality frame shop to frame up any of their artwork that you find and will even frame your existing pieces.
If you find a great piece during your visit that you would like to ship to friends and family, stop into the swing by the Ingersoll Ave, Handle With Care Packaging Store to ship via UPS shipping or FedEx shipping.  The friendly professionals at Handle With Care Packaging Store will help you compare shipping rates to find the best rate and service for shipping your packages.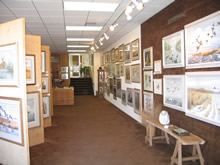 (Image: Maynard Reece Gallery)
So whether you are in search of new wildlife prints for the living room or have a treasured piece of artwork that you want framed, stop into the Maynard Reece Gallery to experience the wonder works of Maynard Reece for yourself.
Maynard Reece Gallery
3512 Ingersoll Ave.
Des Moines, IA 50312
515-274-1880

BUSINESS HOURS:
Monday: 10:00 - 4:00 Oct. - April
Monday: closed May - Sept.
Tuesday - Friday: 10:00 - 5:30
Saturday: 10:00 - 3:00
Sunday: closed