Turn Special Memories into a Work of Art this Mother's Day
Apr 02, 2015
Kristi at Simply Framing by Kristi located on Brambleton Ave, can help you turn your memories or childhood treasures into a work of art for your Mother this year. With Mother's Day less than a month away, it's time to start planning your gift. Make this Mother's Day gift really special by sending your mom a special surprise meant just for her. Kristi will help you create a treasure for your mom by framing any special combination of treasured items: a piece of your artwork, or poem you wrote just for her, a family heirloom, and mix in a few family photos that your mom will adore.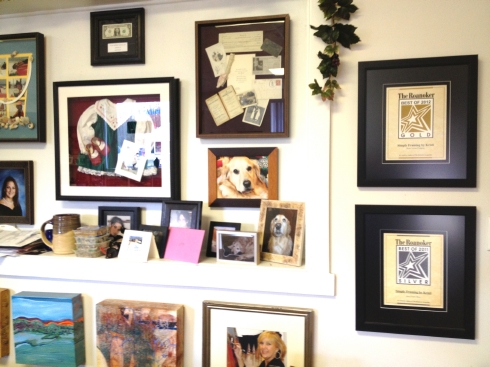 Simply Framing by Kristi located 3203 Brambleton Ave., Roanoke, VA 24018 (previously home of the Original Brambleton deli) is your local, expert source for custom framing. Stop in for a professional consultation, and browse the large selection of mouldings and matboard colors for inspiration. Kristi also offers beautiful artwork from a variety of talented local artists that is sure to make a great Mother's Day gift.
With over 30 years of experience in the art of framing, Kristi knows how important your family memories are to you and your mom. She and her staff will take special care to frame your treasures, and even offer a quick turnaround and offer rush service if you have any last minute ideas.
With your gift in hand, stop in and see Dottie and Keith Myers, your local package and shipping experts at the local Handle with Care Packaging Store in Roanoke, VA who can help you ship any framed item with care, no matter its size or shape. Offering UPS, FedEx, and USPS services, the friendly professionals at Handle with Care Packaging Store will help you compare shipping rates to find the best rate and service for shipping your family treasures to your Mom this Mother's Day.
Simply Framing by Kristi
3203 Brambleton Ave.,
Roanoke, VA 24018
(previously home of the Original Brambleton deli)
STORE HOURS:
Mon - Fri: 9:00 am - 6:00 pm
Sat: 10:00 am - 2:00 pm
Image and Sources: simplyframingbykristi.com and Simply Framing by Kristi Facebook Page