The Packaging Store is Proud to Work With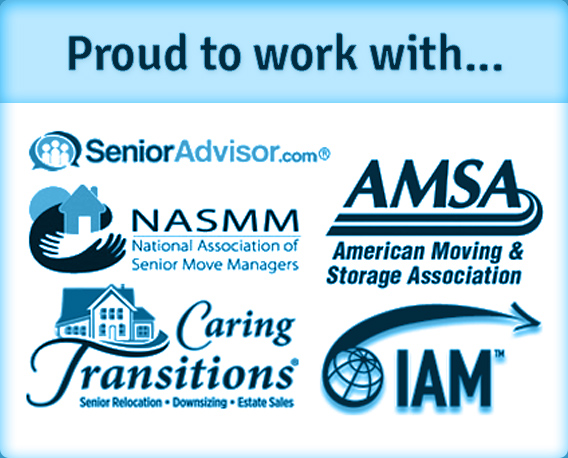 SeniorAdvisor.com
National Association of Senior Move Managers
American Moving & Storage Association
Caring Transitions and IAM
Based on more than 30 years of experience, The Packaging Store in Effingham has been trusted by estate executors, attorneys, and personal representatives with their complex estate distribution needs.
Estate shipping can be, by its very nature, a stressful endeavor. Let the Packaging Store's estate shipping services help ease some of the strain of your relative's passing or downsizing. Trusted among moving companies, our experts will come directly to the home, expertly package the items for you, and then ship those items to multiple destinations with the care and gentleness that you yourself would use in this delicate situation. Antiques, documents, jewelry and furniture will all be handled with the utmost concern and sensitivity, and you will rest assured that your loved one's mementos and keepsakes will be treated with the respect they deserve by one of the most trusted moving companies in the business.
Estate Shipping Services in Effingham
We'll custom fit boxes and supplies for oddly-shaped furniture, and make sure fine china and memorabilia arrive damage-free anywhere in the world. You know that each of the Packaging Store's franchises is stocked with all of the packaging and shipping supplies your estate shipping situation might need, but each Packaging Store is also stocked with something more important: people just like you. We understand what a difficult task estate shipping can be. When we come into your relative's home, it isn't simply "to get the job done." We want to treat you as we would like to be treated during our own hard times: with courtesy and respect.
If you're looking for the best estate shipping service—your search is over! At the Packaging Store, we are committed to handling your estate shipping needs with sensitivity and consideration.
Need a quote? Call us at (217) 342-7221, and we'd be happy to listen and provide a custom solution based on your needs. Thank you for giving The Packaging Store the opportunity to earn your trust, and your business.
Sincerely,
Scott & Barbara McMahan
Packaging Store of Effingham
1000 N Keller Dr
Effingham, IL 62401-1743
The Packaging Store
1000 N Keller Dr

Effingham, IL 62401-1743

M-F 9:30a.m. - 6:00p.m.
Sat 10:00a.m. - 2:00p.m.

Serving Effingham, Terre Haute, Champaign