Packing Services in Soldotna
The Packaging Store is your solution to pack your delicate, ornate, large and heavy objects.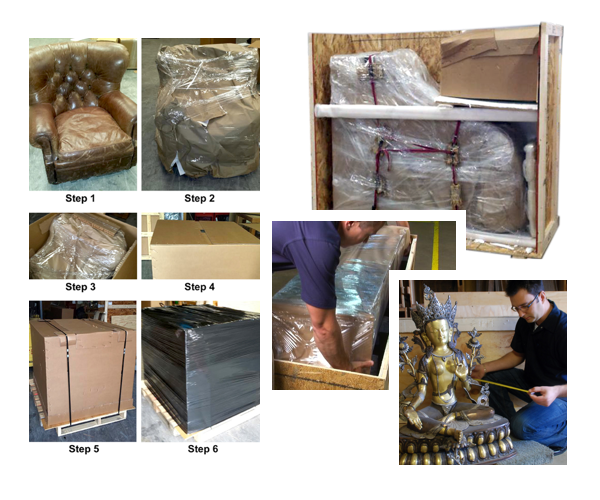 Full Service Packing Company in Soldotna
We take care of everything. From packing to shipping and even crating, the industry-leading professionals at the Packaging Store make getting things where they need to be headache-free. We don't just shove letters in envelopes and books in boxes, we take care to protect your valuable or fragile items like they were our own. With 30 years of experience, we've never met a package we couldn't secure.
No matter what you have, we have the experience to pack it perfectly.
Furniture and Antiques: Intricately carved chairs, expansive mirrors, and one-of-a-kind treasures in all shapes and sizes are no challenge for our packaging team. If it is difficult to pack, come to the Packaging Store and let us take care of everything. We will ensure safe transportation of your valuable and treasured furniture and antiques with custom packing and shipping solutions.
At the Packaging Store in Soldotna, we specialize in packing and shipping that meets the unique needs of the Kenai Peninsula Borough. Our beautiful little town is home to professionals, fishermen, and visitors just taking in the stunning scenery of the river. We help everyone who has something that needs to be carefully shipped with full-service packaging. Whether you are shipping internationally or moving collectibles and antiques across Alaska, we have the services you need.
Our experts carefully pack shipments to provide peace of mind over any distance. Since our solutions fit to your custom needs, you can walk in and out of our shop without a worry in the world that your items will reach their destination in pristine condition.
It doesn't matter what you have, we can pack it. Furniture & antiques require specific skills and experience to properly package. Each of our professional packers take their time to safely secure your most valuable items. With over 30 years of experience in the Packaging Store name, we ship everything with the highest regard for safety and customer satisfaction.
Electronics & computers shipments are another specialty here at the Soldotna Packaging Store. We have the right equipment and expertise to pack everything from widescreen TVs to computer systems and fully-featured offices. Don't have time to pack it up yourself? Our professional staff will head out to your place of business when you request transit services.
Crafting custom crates to meet international shipping standards is another one of our specialties. Combine that with our packing services, and you get a one-stop shop for international shipping. At the Packaging Store, we are proud to say we can meet almost any shipping need. We take the time to build and pack wooden crates that meet all essential international shipping requirements.
If you have to move, we also stock a wide range of shipping and packing materials. Each of our moving supplies can be purchased or ordered in-store at our Soldotna, Alaska shipping and packaging store. When you need to move, just give us a call and head on over for a one-stop moving supply shop. We sell everything from bubble wrap and containers to straps, moving blankets, and more. And, if you just need a bit of advice, we do that too.
Why do people choose The Packaging Store? We treat every item as if it were our own. Want an instant quote?
Call us at (907) 260-4862.
Sincerely,
David Coombes
The Packaging Store of Soldotna