Shipping Quote
Your Shipping Solution
The Packaging Store has earned a reputation for quick and convenient quotes for all your shipping needs.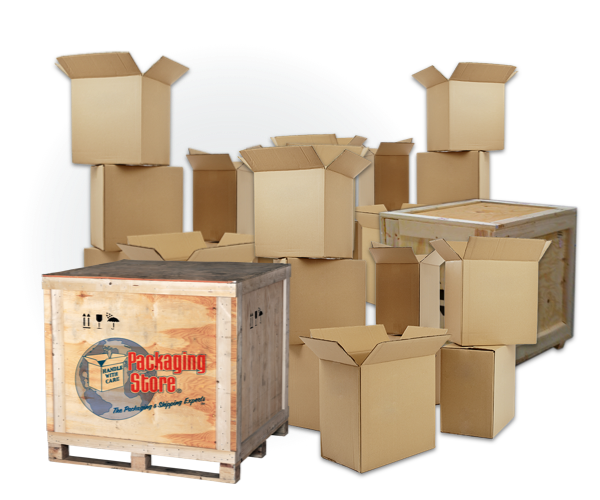 Shipping Quote
What Factors Go into a Shipping Quote? 
The Handle with Care Packaging Store is your full service 'end to end' packaging and shipping company for virtually any item large or small, standard or odd shaped. Because we specialize in providing solutions for pretty much every item under the sun, our shipping rates are going to vary based upon a wide range of factors. The main determiners of a shipping quote are the size and shape of the object you want to send, distance the shipment is traveling, as well as the level of service you want our transporters to provide.
Here are some of the major services we offer that factor into our shipping quotes: 
Pickup & Delivery: We have several options for picking up and delivering your freight. The most bare bones, lowest cost shipping service option is 'terminal to terminal.' In this case, your shipment is dropped off at our nearest terminal and delivered to the terminal nearest your destination, where it is picked up by the recipient. An upgrade from this option would be pickup and Curbside Delivery, where our shippers bring the package to your curbside, where the contact on the receiving end is responsible to unload it. The next upgrade is to Curbside Delivery with Liftgate, where the delivery driver removes the shipment from the truck. Finally, our premium service is called Full Service White Glove Delivery, in which we deliver your package inside your home/place of business and unpack it for you-including heavy and/or fragile merchandise.
Custom Packaging: If you are shipping merchandise that is fragile, oversized, or in any way difficult to pack, you may want to consider our custom packing service. Our industry-leading packaging experts can put their 3 decades of experience to work for you packing up your items in the best manner possible to ensure safe transportation to their destination.
On Site Packaging: If you are shipping hard to transport merchandise or making a small move, it may be too difficult or impractical to bring your stuff down to our terminal. In this case, you may want to avail of our on-site packing service, where our packaging and shipping experts come to your location and pack up everything for you.
Foam in Place/Custom Foam: When you have fragile items that are difficult to ship, it is often hard to determine what kind of packing material is needed to make sure everything travels safely. This is where our custom foam or 'foam in place' service comes into play. We put our experience to work to make sure your costly/fragile items are safely packaged in a nice built to fit cocoon of tough Styrofoam.
Another factor in the shipping quote you will receive is how difficult the item is to ship. Here is a list of the more common items that will need a little extra care during the transportation process:
shipping quote
 are:
Compare our shipping rates and the level of services we provide. We are confident that no one else in the industry offers a better value and deeper level of customer service than the Handle with Care Packaging Store.